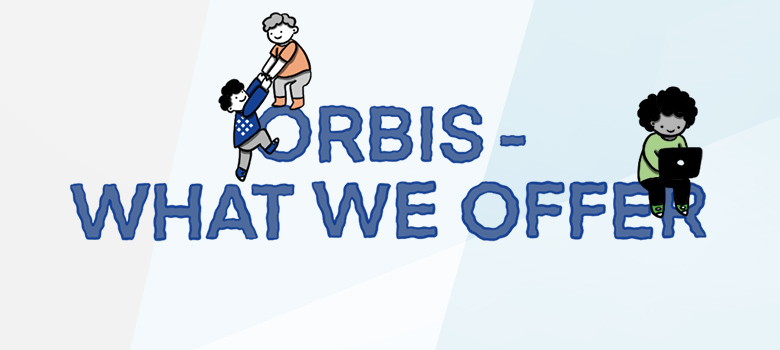 ORBIS - What do we offer as an employer
It is important to us that our employees enjoy working for us. That's why we've created a working environment where you can grow and feel comfortable.
Development & career opportunities
We support our employees in their development by means of a transparent and structured employee development concept. As part of this, we regularly review employee development in various areas of competence. Training and professional development opportunities are supplemented by targeted onboarding and on-the-job training to help employees develop on both an individual and a professional level.

Openness & a community
We started out as a small company and have never lost that sense of community. We're all on first name terms, from our trainees to our Executive Board members, we're open with one another and we will warmly welcome you as a new employee.
Innovation & international engagement
The IT industry is developing rapidly. We work with the latest innovations from Microsoft and SAP and draw on our innovative individuals' creativity and adaptability. We undertake projects on an international scale in a variety of sectors. Our company is rooted locally in the IT region Saarland and is represented nationally and internationally by our subsidiaries and partner companies. Work for us worldwide – whether it's at ORBIS SE, contrimo, Data One, ORBIS People, OSCO, Dialog, Quinso, ORBIS Austria, ORBIS Switzerland, ORBIS France, ORBIS America, ORBIS China, ORBIS Hamburg, ORBIS Consulting Shanghai, BLUE STEC or KiM.

Security & flexibility
We offer secure jobs, even in turbulent times. Flexible working models and opportunities for mobile working support our employees in different phases of their lives.
In addition to our core benefits, we offer our employees interesting incentives across all phases of their lives:
Financial incentives
Variable salary
Anniversary gift and bonus
Emloyee referral program
Mobility
Means of transport
Company bike
Company travel ticket
If required company car
Working hours and workplace
Opportunity for company car drivers to work from home, depending on commuting distance
Flexitime accounts
Additional leave on special occasions and depending on length of service
Remote work
Sabbatical
Health management
Glasses allowance
Flu vaccination
Physical activity breaks
Subsidized massages
Outletics
Insurance benefits
Group accident insurance
Company pension plan
Miscellaneous
Breakfast, granola and fruit for employees
Monthly after-work get-together
Events
Corporate benefits discount system
Inhouse business photos
Sponsoring of sports clubs
Advanced training offering
Trainings
Language courses
Individual development possibilities