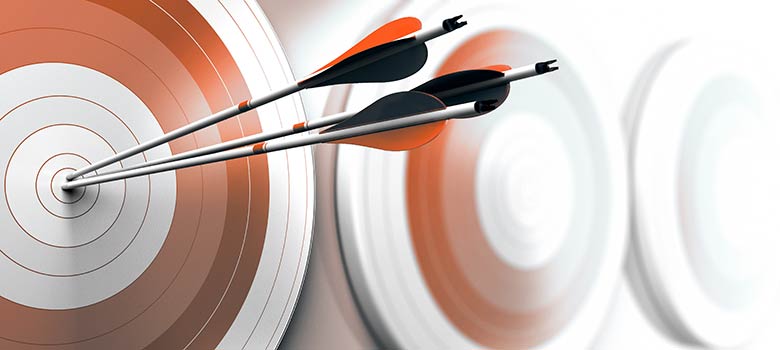 Microsoft Dynamics 365 Marketing
Targeted marketing campaigns at all stages of the customer journey
Microsoft Dynamics 365 Marketing – marketing automation for tailored customer targeting
On average, prospective customers have already completed 57 percent of the customer journey before they contact your company. This means this 57 percent no longer fall within the responsibility of sales, but that of marketing. With that in mind, it's high time we turned our attention to marketing automation.
Microsoft Dynamics 365 Marketing – the central platform for your digital marketing
Alongside Dynamics 365 CRM, Dynamics 365 Marketing is a central element of the Microsoft Dynamics 365 ecosystem. The Dynamics solution for marketing automation helps you cover the entire CRM process throughout the customer journey – from marketing and sales right through to after-sales and customer service. Dynamics CRM and Dynamics Marketing share a common central database, thereby preventing redundancy in the creation of customer and company data.

With a marketing automation solution, you digitize all marketing activities and control all marketing processes and activities end-to-end: never planning, budgeting and implementation as well as analytics has been easier in B2B marketing. By using powerful tools like Teams (MS Office), Customer Voice and Customer Insights as well as Power BI to measure their marketing performance, companies are accomplishing their marketing projects far more easily.

From event management, email marketing and landing pages, campaign management, lead generation, lead nurturing as well as lead management, Dynamics 365 Marketing offers all you would expect from professional marketing automation.
Improved collaboration between sales and marketing at all stages of the customer journey
Microsoft Dynamics 365 Marketing gives you a complete picture of your customers and prospects, improving collaboration between marketing, sales, and service. Thanks to the customer profiles that build up dynamically in the Microsoft CRM system, your potential customers follow a seamless customer journey and marketing activities can be placed in a more targeted manner.
The marketing solution enables you to address your target group at the right time via the right channels with personalized information. With the help of systematic customer targeting aligned with the needs of the target group, you can offer your customers tailored products or services. With Microsoft Dynamics 365 Marketing, you get a CRM solution that already makes the difference in the individual customer approach.
The advantages of Dynamics 365 Marketing at a glance
After its market launch, the marketing automation solution became one of the fastest growing marketing tools in the world. Here you will find an overview of the key benefits of Microsoft Dynamics 365 Marketing:
Professional email marketing: inspire your contacts with targeted information!
Marketing automation for Dynamics 365 helps you to run top-tier email marketing with simple tools. Generate emails in HTML format with the integrated editor or use pre-defined email templates. The system shows you whether an email has arrived or if it has been rejected (soft and hard bounce). You will also see how often and when an email has been opened or a hyperlink was clicked. This will help you to find out which topics are most relevant to your customers and prospects, allowing you to target your marketing activities even more effectively.
Web and campaign tracking: analyze your homepage to discover new potential
Find out with the help of Dynamics Marketing who has been viewing which products and services on your homepage with analysis of every click. Seamless integration in Microsoft Dynamics CRM means immediate access to meaningful analytics and analytical graphs, which are also linked with your contacts. This feature is especially useful for analyzing email campaigns. It links emails, web visits, page accesses or online forms with a specific campaign. You can also generate analytics on the revenue generated by the campaign in just a few clicks.
Event management with Dynamics 365 Marketing: simplify the coordination of an event for your entire team
Planning, hosting and following up on events constitutes a considerable challenge in terms of time and organization. Data management and consolidation are often laborious and prone to error. Dynamics 365 Marketing contains a fully integrated event module that you can use to organize and process any event, from simple webinars and virtual events right through to complex, global trade fairs. That includes general event planning and invitation management, tickets, registration and check-in, right through to stand construction, logistics, performances, speakers, hotel bookings, shuttle services or catering. Of course, post-processing and success measurement are also part of the marketing automation system.
Lead scoring: prioritizing top leads
Identify your most promising leads with automated lead scoring models. Based on interaction such as website visits, page views or time spent, Dynamics 365 Marketing assigns points. If a lead achieves an agreed minimum score, it will be forwarded via automated workflow to a sales employee for follow-up.
Campaign automation and follow-up: generate more leads with multi-tier marketing campaigns
Use Dynamics 365 Marketing to create automated nurture processes and multi-channel campaigns for customer acquisition or retention using drag and drop. The marketing automation platform links emails, web visits, page accesses and form captures to the relevant campaigns and thereby enables the analysis of each individual marketing activity.
Landing pages: create landing pages without HTML skills
Generate landing pages in an instant without any HTML expertise and link these to your Microsoft Dynamics CRM solution. This will enable visitors to a landing page to be automatically logged and tracked. You can also make your marketing campaigns interactive via integrated forms or surveys.
Form capture: data quality through doublet matching
The marketing automation software makes it easy to link the forms from your website to Microsoft Dynamics 365. As soon as a visitor has filled in a form, their email address will be compared with all email addresses in Microsoft Dynamics 365 Sales, ensuring that duplicates are avoided.
Social media: enrich customer records with sales-relevant leads
The marketing automation tool uses the information freely available in social media such as LinkedIn, Facebook, Twitter or Instagram and and enriches your customer data records with sales-relevant information.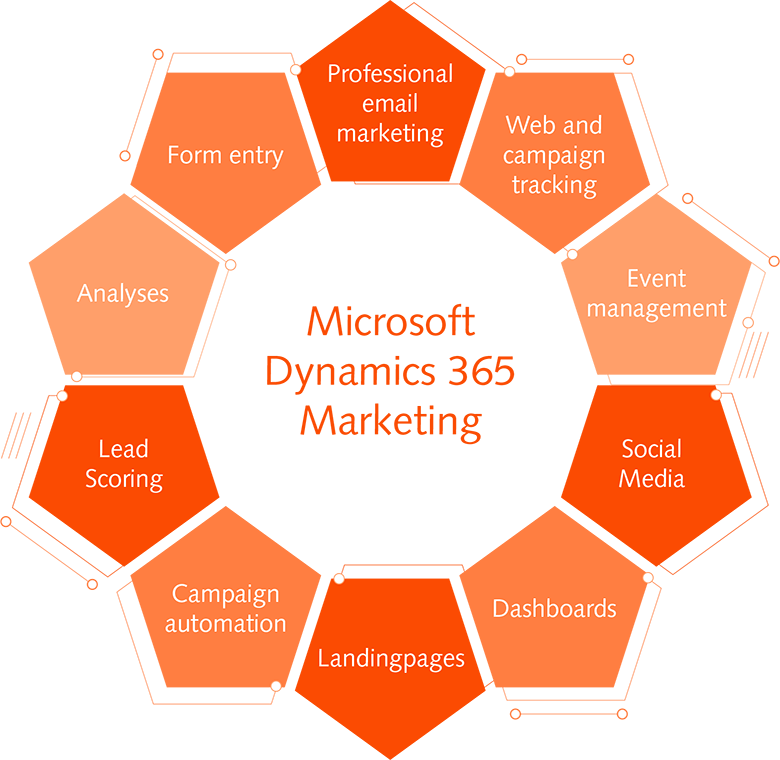 The all-in-one solution for automating your marketing impresses with a variety of add-ons that you can use to extend the software:
Dynamics 365 Customer Insights – predict customer behavior
Personal relationships with customers are essential when it comes to keeping up with the competition. Since most companies do not record their customer data centrally, but in different applications, this prevents a full customer profile from emerging. Customer Insights automatically collates all data, giving you a 360-degree view of your business clients. Sales and marketing obtain an extensive overview of marketing activities and customer reactions. This facilitates more personalized and targeted campaigns in future.
Dynamics 365 Customer Voice – the fully integrable survey tool
Dynamics 365 Customer Voice is a feedback management application that allows you to track the customer metrics that matter most to your business. Based on Microsoft Forms, you can use Dynamics 365 Customer Voice to create surveys to generate customer feedback. The software solution adds the newly acquired survey data to your customer datasets in real time. This way, you'll always be up to date on what your existing customers like and don't like about your products and services.
Microsoft Teams – the collaboration platform
Teams is a collaboration tool for easy real-time collaboration between internal and external employees. Teams is included as standard with Office 365 and enables video conferencing, chats, phone calls as well as joint working on documents. Furthermore, you can access CRM data without having to leave Teams.
Make the right decisions with Microsoft Power BI
Power BI is a powerful solution for generating reports and contains a variety of cloud-based Business Intelligence functions. With the help of the intuitive interface you can merge, analyze and visualize data. Thanks to the integration with SharePoint, you can share newly gained insight with your colleagues across departments or locations.
Dashboards and analytics allow you to track your marketing initiatives and thereby identify your most successful marketing campaigns. By merging sales and marketing results, you can calculate the return on marketing investment (ROMI) for your company.
Intelligent workflows with Power Automate and Power Apps
With Power Automate you can create automated workflows. This relieves you from laborious routine tasks, saves time and makes day-to-day work easier for companies. All you need to do is define how the tool should respond once. Afterwards, when a certain circumstance occurs, you never need to do this workflow yourself again.
Power Apps is a low-code application designer and, with its graphic modeling methods (WYSIWYG-Editor), it enables you to quickly create user-defined and web-based applications for your marketing automation application even without developer skills.
Digitalize your marketing processes with ORBIS
ORBIS is one of the leading Microsoft partners for Dynamics 365 Sales (CRM) in Europe. Whether it's the automotive supply industry, construction supply industry, consumer goods industry or discrete manufacturing, we have decades of cross-industry experience in Microsoft Dynamics 365 and know exactly what matters in customer relationship management. For your Microsoft marketing project, ORBIS provides you with a competent marketing team and technical consultants who support you in the precise implementation with Dynamics Marketing.
Our solutions for customer engagement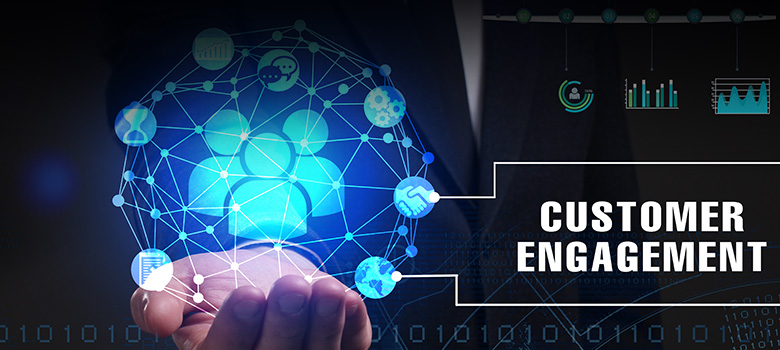 Our solutions for customer engagement
Cloud-based best practices tailored to your industry, based on Microsoft Dynamics 365
Microsoft Dynamics 365 Sales

Microsoft Dynamics 365 Sales
Optimize your sales processes with Microsoft Dynamics 365 Sales