ORBIS Product Cost Calculator
Smart costing in SAP – heading towards more transparency in your costing processes without system discontinuity
Your way to smart costing: intelligent cost calculation with ORBIS
Calculation of product costs with ORBIS Product Cost Calculator directly in SAP with and without master data
ORBIS Product Cost Calculator (ORBIS PCC) is a costing software that was developed as an SAP add-onbased on ABAP. Do you use an ERP system from SAP? Our costing tool enables cross-company code costing directly in SAP ERP with a standardized calculation procedure.
Real-time accessto the up-to-date controlling and production data, as well as purchasing and sales conditions, maintained centrally in the ERP solution, enable accurate and quick calculation of product and production costs – from the design to the quotation phase. Contract work or external work processes are also taken into account by our software.
ORBIS PCC extends the SAP standard solution: With our costing program, all phases of the costing process are 100% in SAP – SAP is the leading system and therefore forms the foundation of the costings.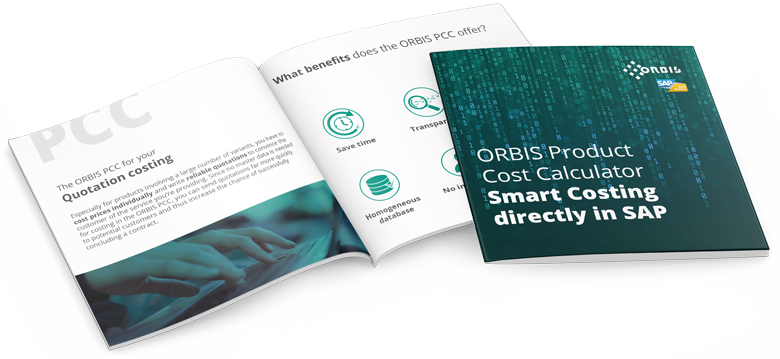 ORBIS PCC quickly explained
More efficiency in your costing process with our SAP ERP Add-On. Find out how in our booklet.
Integrated costing processes for sustainable business success
Profit is the only meaningful measured variable illustrating a company's long-term success. Pricing is the strongest influencing factor against this backdrop. To setcompetitive prices and thus take into account all costs incurred, it's helpful to use a program that enables quick and standardized calculation of both product and production costs, not to mention quotation costing and provides a complete overview – from design to sales and controlling. The more accurate the costing, the more informed the decisions based on them will be to manage your business with foresight and efficiency and to ensure profits in the long run.
Many manufacturing companies already use SAP ERP to plan and manage their business processes. But, in most cases, product costs (prices for materials, hourly rates, tariffs, etc.) and pricings are calculated and simulated in external solutions like Microsoft Excel or Access. Since these calculations are generated outside of the ERP solution, neither data flows nor calculation histories can be reproduced. Another disadvantage is the high error rate and the enormous maintenance effort in terms of time, as the costing data constantly needs to be manually copied or transferred between SAP and Excel and updated. This problem is exacerbated for complex products or products involving a large number of variants.
So it's obvious that, for transparent and flexible costing, companies need software that prevents media discontinuity through integrated processes and thus ensures an overview of all costs, prices and quotations.
Smart costing in SAP: Continuous costing process without media discontinuity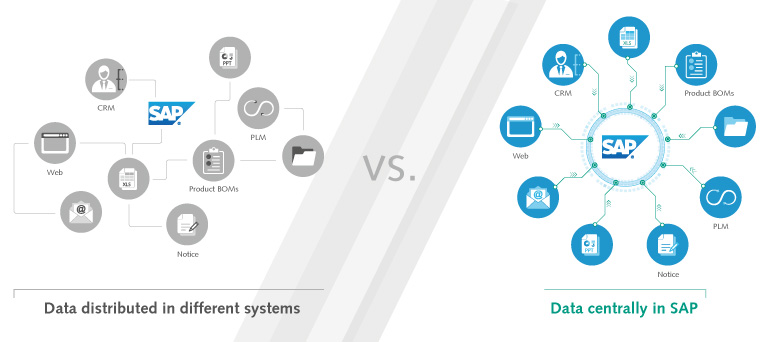 The graphic on the left illustrates the costing process without ORBIS PCC, which is characterized by various data sources and media discontinuity, as well as a great deal of time-consuming manual effort. The optimization achieved by our costing program can be seen in the graphic on the right: One data source, integrated processes and transparency in all phases of the costing process.
With ORBIS PCC, all stages of the costing process are 100% in SAP – from the inquiry to the delivery. The software starts at the point where the SAP standard solution isn't adequate and thus extends the costing possibilities within the ERP system.
ORBIS PCC's functional highlights
ORBIS PCC is a combination of the most important functions from the SAP modules Controlling (CO), Production (PP), Purchasing (MM) and Sales (SD). As an extension of the SAP standard solution, costings can be carried out clearly and conveniently in ORBIS PCC, even without master data.
The special feature: In contrast to the base planning objects in SAP, ORBIS PCC also enables multi-level costing and thus allows the assemblies to be broken down to the lowest level. These costings can be based on previously created templates, document structures, sales documents and materials or routings. Costings can also be carried out without a template. If required, master data (material master, bill of materials, routing), quotations and customer orders can be generated automatically.
The costing process is simplified by extensive search aids, context menus and comparisons, as well as an intuitive and user-friendly operation.

Costing with and without SAP master data
With the help of our software, production costs, development-related costs and quotations can be calculated and simulated exclusively in ERP both with and without master data.
Automated generation of quotations, customer orders and master data
You can create quotations, customer orders and master data in the ERP system directly from our costing software.

Extensive, individual search help for costings
By assigning values to characteristics for the costing and a search aid based on this, you can quickly find each individual costing.

Costing templates, versions and comparisons
Within our software, costings can be created quickly using templates and can be easily reviewed and evaluated using versions and comparisons.

Attachments of documents or notes
You can attach individual documents or notes to each costing item and thus benefit from additional information.

Integrated workflow with notifications
A workflow with notifications is integrated into our costing software to ensure structured workflows between all departments.
How you benefit from ORBIS PCC
Thanks to the "real-time" integration into the existing SAP system, you can access up-to-date costing data at any time, enabling reliable costing and simulation. Access to the existing ERP data also means that little manual and time-consuming maintenance is required. To be more specific: With our costing software you can save a lot of time.
The advantages of ORBIS PCC at a glance
Up-to-date costing data directly in the SAP system
Central and uniform costing in SAP without any media discontinuity
Cost and process transparency
Efficient "make-or-buy" decisions
Costing possible both with and without a template
The costing process is simplified and sped up by the easyretrieval of costings due to search aids and quick costing creation due to templates. This ensures timely costing results, plus cost and process transparency across plants and country borders, and forms the foundation of fast and well-founded management decisions.
The SAP basic technology enables use of existing IT resources in the company and thus to create costings without a great deal of training effort. The reduction of interfaces and systems, as well as process costs, due to automatic master data generation are further advantages.
The ORBIS PCC sets the course for smart costing processes in your company. Not only do you save time and resources due to quick cost calculations and quotation costing; you also increase your customers' satisfaction!
Our costing software offers extensive additional functions
Our software is continuously further developed so it always meets the current market requirements. Due to the complete integration in SAP, we can extend the ORBIS PCC standard solution at any time and provide new, additional functions at regular intervals, which you can add to the standard solution if required. In addition, our customers benefit from updates, which ensure that the ORBIS PCC's functionality is always up to date. In this way, we ensure that your smart costing processes are even more future-proof and that your customers are satisfied in the long term.
Additional functions that have already been developed:
Detailed comparison
Excel export
Excel import 2.0
Mass change
Project file integration
Take a look at all other areas of application that are covered by our software
Quotation costing with ORBIS PCC
ORBIS PCC quickly and easily enables costings of professional quotations in SAP.
Product design cost estimate with ORBIS PCC
ORBIS PCC enables product design cost estimate directly in SAP.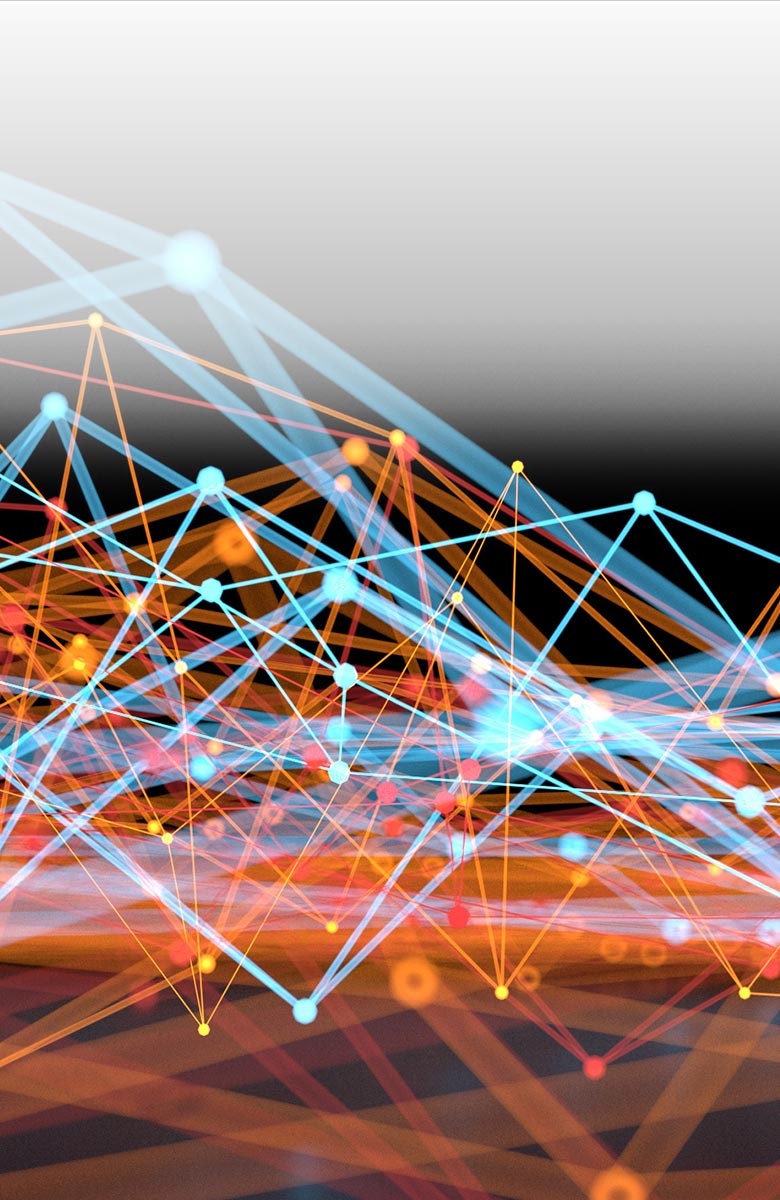 Smart Costing at HÜBNER Group: Product cost calculation with ORBIS PCC integrated and transparent in SAP at all times

CLAAS Group: Calculating tens of thousands of items with ORBIS PCC completely integrated in SAP ERP

KTR implements ORBIS Product Cost Calculator – preliminary costing directly in SAP and from one source

ERCO: Introduction of ORBIS PCC with complete SAP integration: