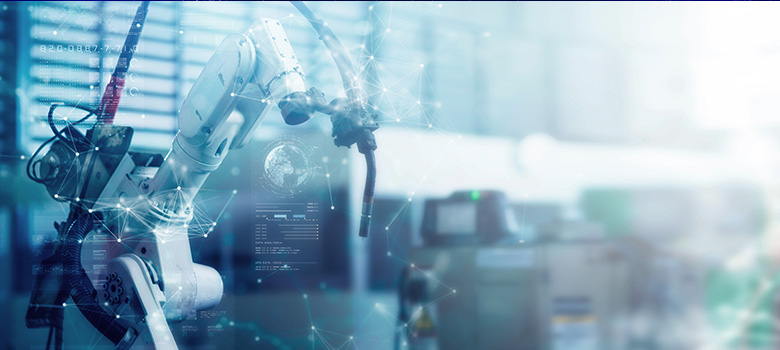 SAP Digital Manufacturing: Realizing world-class manufacturing transparency
Improve your visibility across all operations with SAP DM
SAP consulting from a single source: partnering with ORBIS on the way to becoming an intelligent enterprise
Successful together: speeding up the digital transformation with SAP solutions and holistic consulting by ORBIS
Is your company looking for an SAP Partner who can help you implement SAP systems and support your digital transformation? Make your decision easier by relying on advice from ORBIS. Why? ORBIS combines many years of experience in implementing SAP software and extensive knowledge of your industry with consulting that's based on a holistic approach. So our consulting service helps your company to optimize its business processes in the long term.
With our experienced SAP consultants and the comprehensive consulting service covering SAP solutions, your company will end up with a customized and competitive IT strategy. In other words: with consulting by ORBIS, together we'll make the most of the opportunities that the digital transformation has to offer and make your company more digital, more competitive and more innovative.
What's so special about SAP consulting by ORBIS, and what does a holistic approach to our projects mean?
We don't just aim to automate individual business processes; rather, we've got our sights set on consistent digitalization. With ORBIS, you can rely on efficient, SAP-integrated processes throughout your entire company.
As an SAP Partner that has many years of experience, we use this philosophy to ensure our customers' competitiveness throughout the entire value chain. What's more, we pay particular attention to your individual requirements and help you with the necessary internal change management. For the SAP consultants at ORBIS, it's not just the implementation of innovative SAP solutions that counts; the integration of your employees and existing IT landscapes matter too.
"The process and solution-oriented approach taken by the experts at ORBIS, not to mention the trusting collaborative relationship and short decision-making channels, have enabled us to successfully get to grips with the challenging process of launching SAP."

Andreas Glamann, SAP Project Manager and Global Head of IT Processes at the ODU Group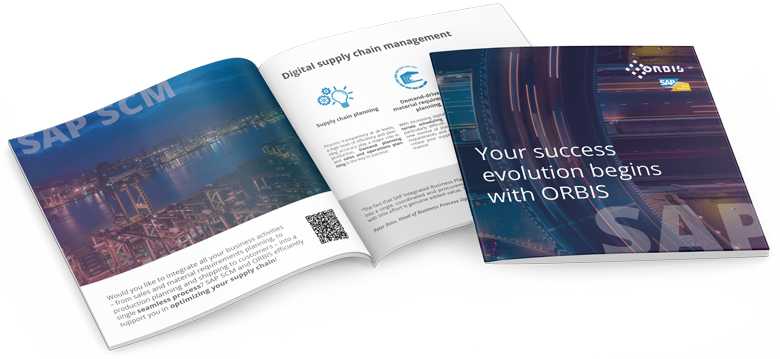 Your success evolution begins with ORBIS
Are you looking for an empathetic process consultant, a customer savvy person with experience and an innovative digitization expert? Then ORBIS is the right place for you! Our SAP by ORBIS booklet gives you an overview of our holistic SAP portfolio.
Why you're relying on the right SAP partner with consulting by ORBIS
ORBIS is counted among the Top 10 SAP consulting firms in Germany. Our happy customers aren't the only proof of that; the reputation of our SAP consultants, illustrated at the end of 2020 by an analysis conducted by the Institute for Management and Economic Research (IMWF) and COMPUTERWOCHE, is a clear reflection of that position too. With over 30 years of experience in the software and IT industry, we'll be successful in the digital age together!

Complete process consulting
When implementing various SAP modules, it's important to ensure optimum integration into your workflows. That's why our SAP consultants focus on consistently managing your IT environment, taking into account all the processes and your employees – so you benefit in all areas from the trend towards automation.

Extensive industry expertise for more than 30 years
Our SAP consultants have many years of specific experience in a wide range of industries, such as the automotive, consumer goods, metal and electronics industries. Thanks to our specific expertise in the field of production and mechanical and plant engineering, our consultants speak your language and know your IT application requirements inside out.

Fully SAP-integrated solutions and add-ons
In addition to our services for SAP products, we contribute to a sustainable and efficient IT architecture by developing our very own SAP-integrated ORBIS solutions. Our innovative solutions complement the SAP technologies and help you to achieve a complete, digital enterprise.

SAP Gold Partner with 360+ SAP consultants
By working closely with SAP Deutschland SE & Co. KG, we have held Gold status for many years and can therefore look back on a long-lasting partnership. More than 360 SAP consultants prove both their in-depth SAP expertise and their soft skills as reliable IT consultants during their everyday work with our customers.

1,500+ customer projects with more than 500 customers
The fact that ORBIS's SAP consultants provide efficient and proven project management is demonstrated by over 1,500 SAP projects. Our customers are more than 500 SMEs and international corporations.

International project work at eight sites
ORBIS's IT experts are spread all over the world and offer corporate consulting for SAP software at eight sites . With our SAP consultants in Germany, France, the Netherlands, China and the United States of America, we are an international SAP service provider with over 30 years of experience.
ORBIS SE's expertise in the field of SAP: your partner for digitalization along the entire value chain
Why does it make sense to rely on the support of SAP consultants? External consultants extend your IT department's resources and complement your employees' know-how with expertise in the latest technologies and most up-to-date SAP systems. For example, if your company is already using an ERP solution from SAP and would like to supplement it, or would like to implement SAP as its preferred business application, then ORBIS's Support team will provide you with the ideal assistance.
Our SAP consultants' skills are characterized above all else by a holistic view of all processes in your company. So our SAP consulting service includes suitable software and IT consulting along the entire value chain – from solutions for logistics such as SAP EWM, to optimized HR processes with SAP HCM or SAP SuccessFactors, to an optimized customer approach for Sales, Marketing and Service with SAP Customer Experience. In addition to SAP SE solutions, we also offer proprietary, SAP-integrated IT solutions. Three principles are therefore particularly important for ORBIS's software consulting service: innovation, integration and efficiency through individual solutions.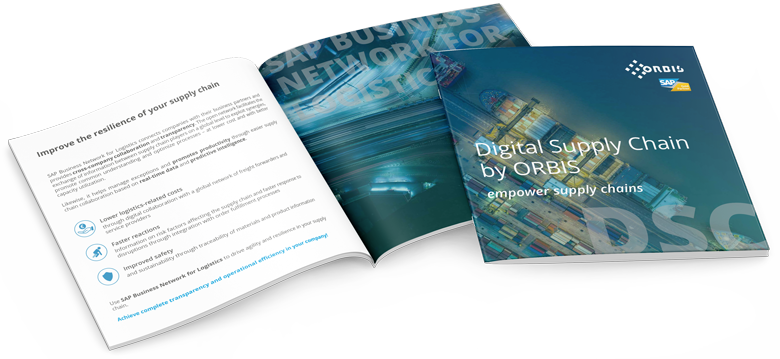 Empower supply chains with the ORBIS DSC portfolio
How do you keep your supply chain fit for the future? This booklet gives you an overview of SAP solutions that ORBIS consults in the digital supply chain area.
Our SAP consulting expertise and integrated solutions throughout the entire value chain
The infographic shows ORBIS SE's entire consulting and solution portfolio. As an SAP Partner, we assist you in implementing automated processes and integrated systems along the entire value chain – from the front and back office to production and logistics. So our SAP consultants accompany you all the way to the intelligent enterprise! What's more, ORBIS SE's Managed Services ensure that all application problems are handled quickly and efficiently in day-to-day business.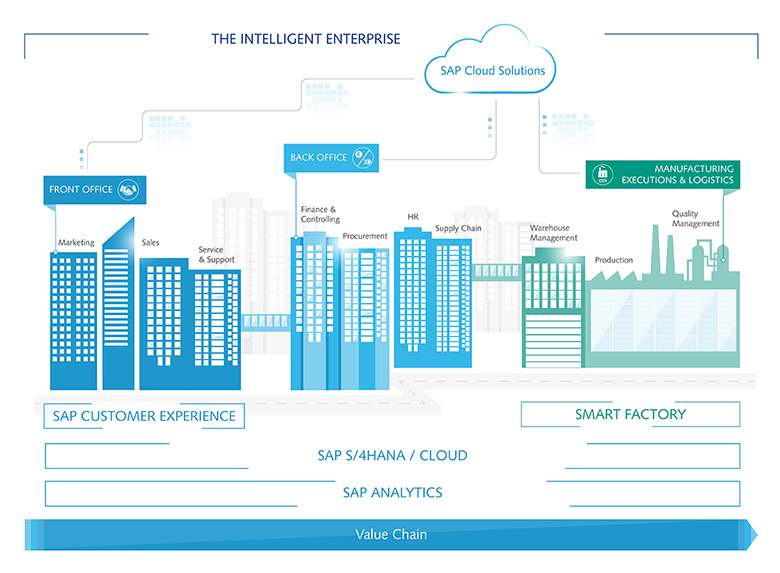 On the way towards the intelligent enterprise, we focus on the following SAP applications and IT projects in particular: SAP S/4HANA, SAP Customer Experience and the implementation of the Smart Factory. Both the implementation of these systems and the expertise of our SAP consultants speed up the digital transformation in your company. During this transformation, the SAP consultants at ORBIS always strategically focus on your future and your company's success.
What's more, with SAP consulting by ORBIS, you can rely on comprehensive support for the introduction of cloud solutions, as with the likes of SAP Integrated Business Planning (IBP), for optimum sales and demand planning within your supply chain. With the SAP Business Analytics portfolio, including the SAP Analytics Cloud, the SAP consultants at ORBIS also have comprehensive expertise in the field of business intelligence. Our SAP consulting service allows you to exploit the full potential of the cloud!
Thanks to their increasing expertise in Cloud Business, ORBIS has been awarded the status of "SAP Cloud Focus Partner". This status can only be awarded to SAP partners who are especially committed and ambitious in the field of cloud business and meet defined competence standards. As a selected member of the Cloud Focus Partner Initiative (CFPI), ORBIS also benefits from close exchange with SAP and a corresponding transfer of expertise, which ensures a continuously growing expertise solution. This makes us the ideal Intelligent Enterprise Partner for our customers.
ORBIS – an awarded SAP Partner

Focusing on IT and consulting topics for the digital future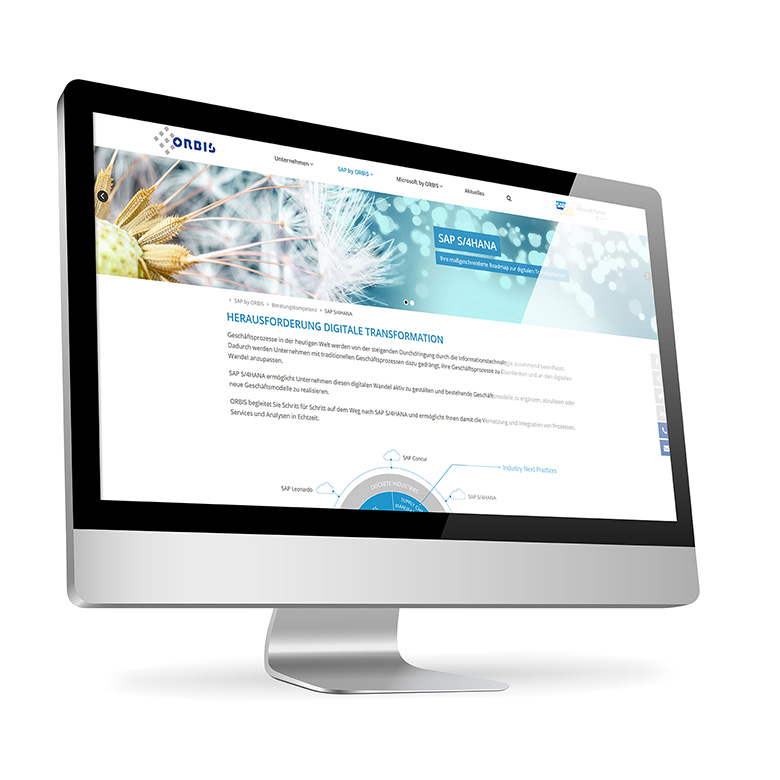 SAP S/4HANA – the roadmap to the intelligent, integrated enterprise
Traditional IT infrastructures and systems are increasingly less able to keep pace with the digital transformation. With S/4HANA, you're opting for a modern SAP ERP solution and will benefit from artificial intelligence and real-time analytics. As your partners, our SAP consultants accompany you on your individual path to SAP S/4HANA and thus to innovative and integrated business models.
SAP customer experience – throughout the entire customer journey
Your customer expects a consistent experience across all channels and business units. Seamlessly integrated processes from the front-end to the back-end are absolutely essential to overcoming these challenges. Our SAP consultants help you to seamlessly track and actively shape the digital customer experience.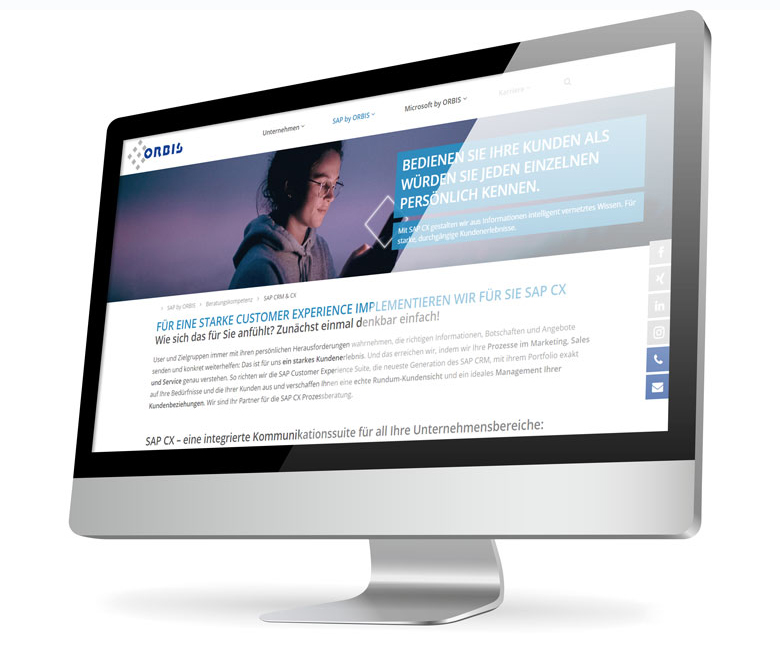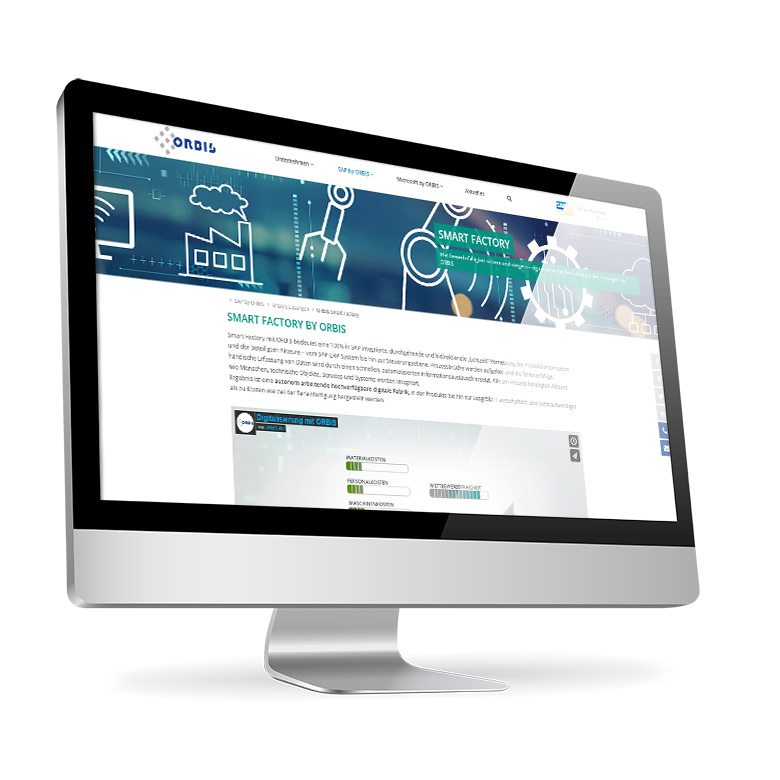 Smart Factory – production and logistics networking in real time
Competitive pressure is continually increasing in ever-growing markets with a high supply surplus. But you still need to ensure that high-quality products are available at low prices in the short term. Software from SAP and ORBIS allows you to digitalize your logistics and production operations and turn end-to-end process integration into a reality. Benefit from our SAP consultants' expertise in the field of Industry 4.0.
Excerpt from our customers in the SAP environment