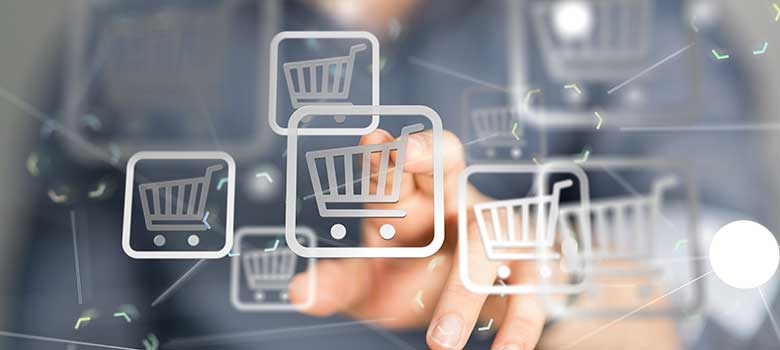 ORBIS Consumer Industry Expertise
Take advantage of the Microsoft platform and the ORBIS industry solution ORBIS ConsumerONE
Trends and challenges for consumer goods industry & trade

The present situation for companies in the consumer goods industry
Margin pressure, brand consolidation, price sensitivity, strong competitors – companies supplying consumer goods face a host of challenges. On top of all these issues, there have been further crises in recent years: Covid 19 with supply chain faults, the Ukraine conflict with its impact on the raw materials market. And there is no end in sight for the consumer goods sector and the industry as a whole.
Set up your digital structures now in the best possible way to positively differentiate yourself from the competition, exploit potential and ensure long-term success for your company.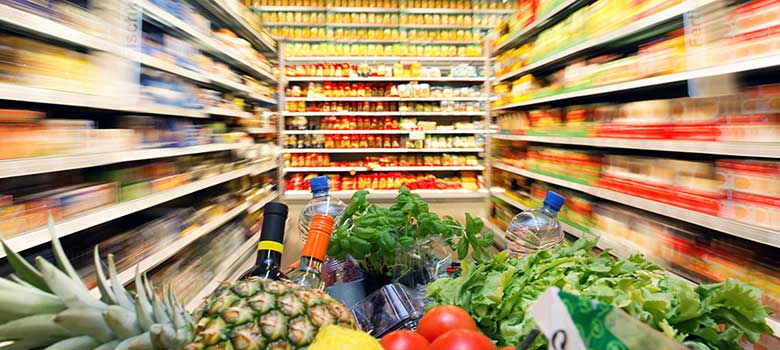 The challenges at a glance
Ever-changing customer expectations and advances in digital transformation pose major challenges to the consumer goods market – and therefore also to you and your company!
This is further aggravated by the negative effects of the Covid 19 pandemic, which include supply bottlenecks, price increases and sales shortfalls. These requirements must be met flexibly and with foresight.
Today, the majority of consumers no longer buys from traditional retailers, but rather increasingly through online portals and the online stores of brand-name manufacturers. These direct consumer purchases are increasingly putting a strain on the traditional business at the counter.
The consumer goods industry: an industry in transition
The outside sales force has long since ceased to serve as a simple "shelf checker". It has become a brand ambassador that stands alongside a shelf check and survey for the successful implementation of your sales campaign. It also acts as a competent point of contact, supporting stationary trade by providing extensive document libraries.
Analytics have an increasingly important role to play in the retail sector and, in particular, in the online and omni-channel sector on an increasing scale.
So the answers to the following questions are no longer sufficient:
Which product/consumer good is most in demand?
Why are certain products less in demand?
How do discounts and marketing promotions affect sales?
Rather, they need to be supplemented by emerging questions regarding the behavior of online customers. This is where the following questions (among others) tend to be useful:
Which sales channels are best used by online customers (with e-commerce)?
What is the impact of digitization and social platforms?
Does sustainability play a role in products and their packaging?
In order to find answers to these types of questions and also to enable meaningful predictions to be derived from the data, the fields of analytics and AI will play an increasingly important role.
Microsoft Power BI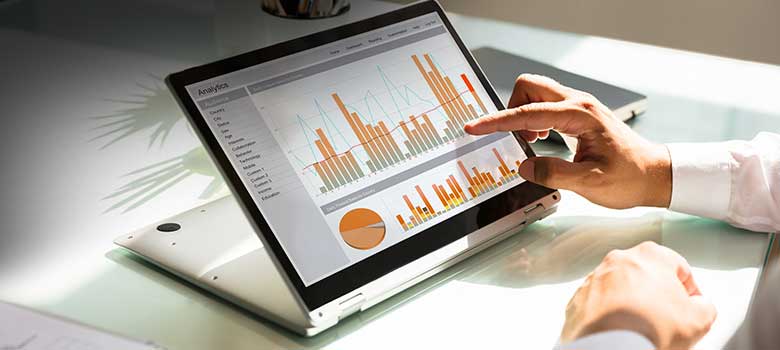 Retain an overview of your company data with the help of dashboards and use this knowledge to make better decisions.
This technological development gear is constantly turning faster and faster and requires manufacturers and retailers to keep pace swiftly in order to be able to continue to exist and grow in the future.
Bring your sales and marketing into the digital future
This new "Direct to Customer" (D2C) sales approach requires new ways of thinking and strategies that must be implemented with digital support. Here, the focus is on marketing in particular. Addressing the end customer is made much easier through innovative solutions by Microsoft. Through our end-to-end solutions and new technologies, we offer you the support you need to build new customer relationships.
Microsoft Dynamics 365 Marketing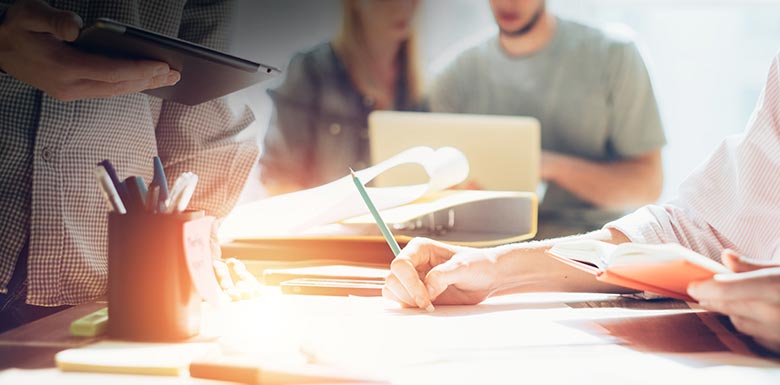 Microsoft Dynamics 365 Marketing
Wow your customers with tailored communications and design a seamless customer journey.
Microsoft Dynamics 365 Sales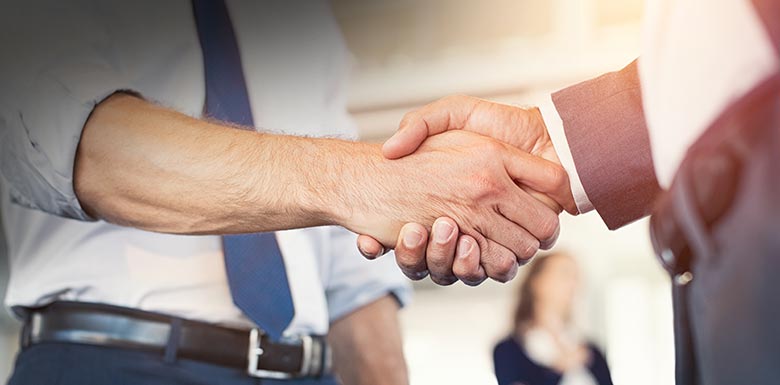 Microsoft Dynamics 365 Sales
Optimize customer contact with this software and boost the performance of your sales team.
We can help you with our out-of-the-box vertical solutions for the industry – from A to Z. Whether it's analytics and outside sales force control or cyclical sales control, you'll find the perfect component for your business with our proprietary ORBIS ConsumerONE. Individual extension options can be used to exclusively map their requirements.
These are some features of our ConsumerONE solution at a glance
Outside Sales
With its UX design, our solution supports you in sales and, in combination with its automation features, enables productive use of time for placement and customer retention.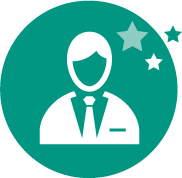 Inside Sales
Give your employees the necessary 360° overview of your customers and experience the pulse of comprehensive sales management.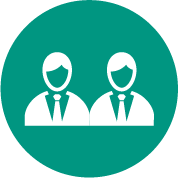 Key Account Management
Keep a constant overview of your pipeline and interact with your employees via standardized integrations of Teams, Sharepoint and Microsoft 365.
Are you still missing a component for your individual processes? Help yourself to our ORBIS modular system
Our ORBIS ConsumerOne offers many additional core elements for your specific requirements. These modules are elements of a holistic platform.
However, if you are still not satisfied with the elements of our solution, please do not hesitate to contact us! We will be more than happy to provide you with advice and support during the implementation process. We are sure you will find what you are looking for in our modular system, which covers several industries.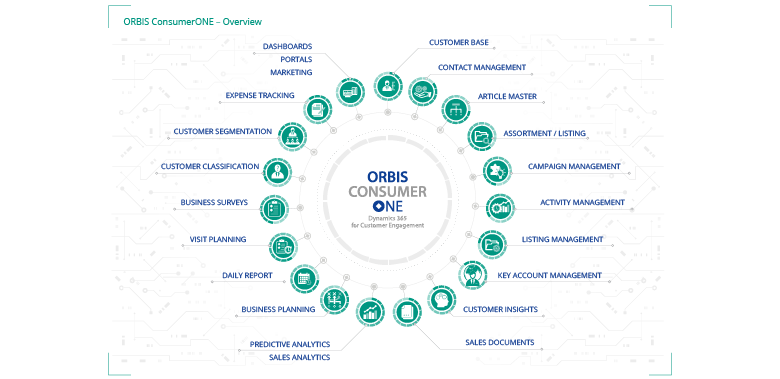 ORBIS – the ideal companion for your entire value chain
We keep our eye on the trends and tendencies of the industry together with you as our customer. We understand and evaluate them in order to propose suitable solution scenarios to you every time and to put them into practice together with you. In this way, we reduce complexity while increasing transparency.
At ORBIS, we have decades of experience and know-how in the consumer goods industry and its related sectors. Our portfolio of consulting services and solutions has been built on Microsoft Dynamics technology – the world's leading platform provider for customer engagement.
Side note: Why turn to platform providers?
Due to recent events with ongoing effects, it is advisable for companies to turn to a software platform like Microsoft instead of using a range of individual solutions. The individual modules work together seamlessly and effectively, providing you with a comprehensive overview. New no-code/low-code applications are resource-friendly. AI and Flows can take on tasks that were previously executed manually, making operation much simpler.
We would be happy to talk to you in person about your individual objectives and show you specific options. Get in touch with us and arrange a consultation session without any obligation.