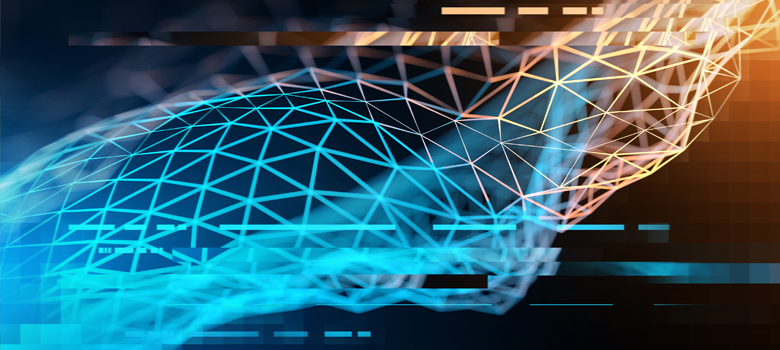 ORBIS MULTI-PROCESS SUITE
DIGITALIZATION - Continuous real-time integration of all stakeholders in the smart factory
ORBIS Multi-Process Suite (ORBIS MPS)
The enabler for industry 4.0 processes in the Smart Factory
ORBIS MPS allows the seamless and real-time integration of people and technical objects (all stakeholders) into the SAP processes. Our Digitalization Suite is fully embedded in SAP ERP and S/4 HANA and eliminates paper-based communication and information exchange. Process-relevant information is digitalized, processed in a way that is comprehensible to the receiver and therefore ensures fast, continuous process automation.
Continuous process automation with ORBIS MPS - Fully integrated in SAP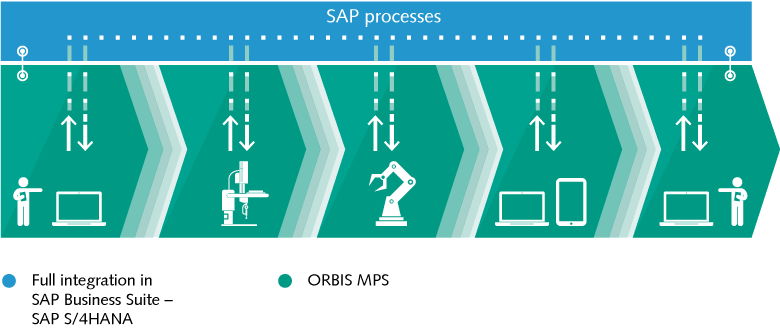 Benefit of ORBIS MPS
Continuous process integration of people, machines, plants, devices, systems, and sensors
Process acceleration: Quick, automated exchange of information
Mirroring of shop floor 1:1 in real-time in SAP
Processes: Push, pull, event control
Process navigation and transparency through visualization on all output devices
Use of existing SAP infrastructure
Reduction of interfaces, systems, and potential sources of error
Multi-Process Suite – modules
The ORBIS Multi-Process Suite (ORBIS MPS) is modular. The individual modules are designed to integrate people and technical objects, such as subsystems, devices and controls, into SAP. Information is exchanged across systems and visualized on a platform-independent and user-specific basis.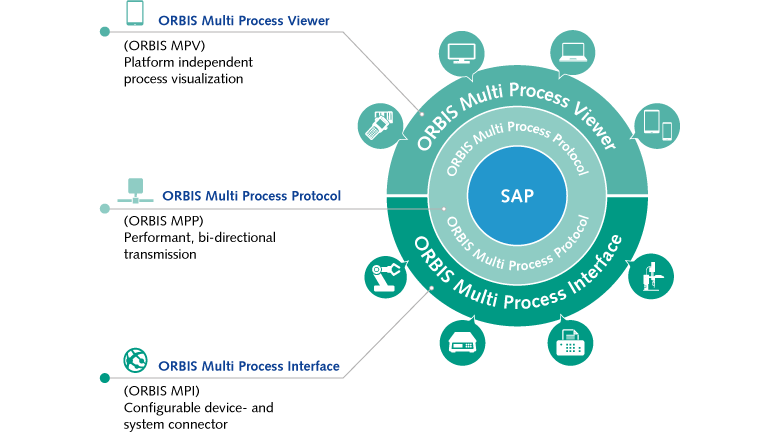 More about ORBIS Smart Factory
Smart Factory by ORBIS
Continuous process automation and "real-time" networking of all actors in the digital factory - 100% integrated in SAP.